Teachers' Day: The President of India Dr S. Radhakrishnan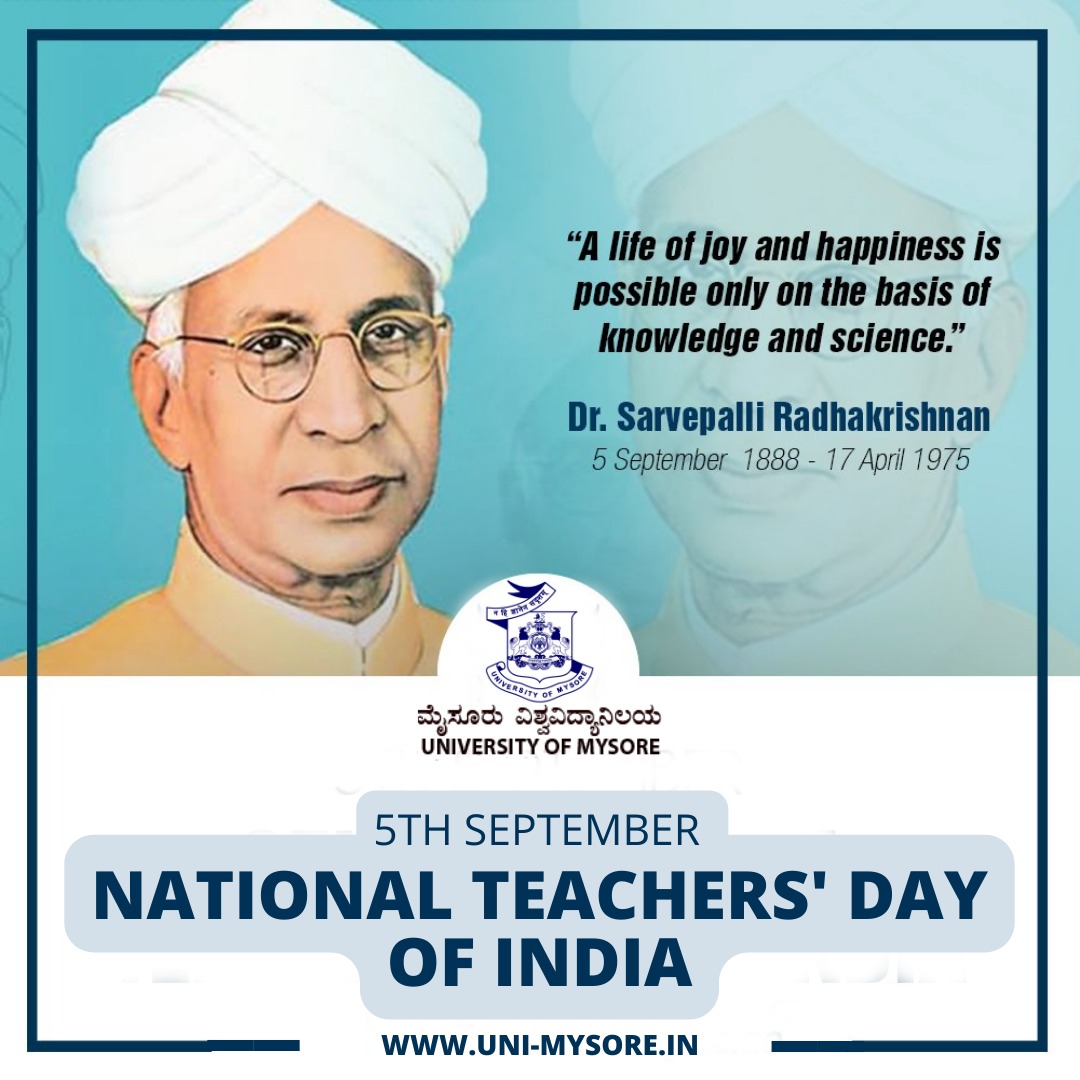 Teachers' Day: The President of India Dr S. Radhakrishnan was a Professor of Philosophy at the University of Mysore
India celebrates 'the 5th of September every year as Teachers' day in the honor of its second President Dr Sarvepalli Radhakrishnan. He was born on September 5, 1888, in Tiruttani, into a South Indian Telugu-speaking Brahmin family. His father Sitaramayya and his mother Kondamma were mainly from Sarvepalli village and had shifted to Tiruttani 10 years before he was born.
Radhakrishnan was a distinguished personality, an ideologist, a philosopher, a teacher, a writer, and a great thinker, who had a strong knowledge of metaphysics and idealism. He became the President of India after serving a diplomatic career. He had no association with any political party.
In the distinguishing career of Radhakrishnan, the foremost part he played was as a teacher. He started as a teacher and always considered teaching the most eminent and valued profession. His admirers and students value his ideologies and knowledge as a source of learning.
Radhakrishna, a professor of Philosophy at the University of Mysore
Radhakrishnan joined the University of Mysore (1918-21) as Professor in the Philosophy Department in 1918. He was appointed by the first Vice-Chancellor of the University of Mysore, Shri H.V.Nanjundaiah.
Radhakrishnan's University accommodation is a cultural centre now
The University has restored the bungalow where he lived and has converted it into 'Dr. S. Radhakrishnan Center and Indian Culture. The museum cum library has around 2000 books and magazines. It is open to the public, students, faculty members, research scholars, and students from affiliated colleges to visit and study.
Radhakrishnan, the great teacher
Radhakrishnan was a great teacher who developed a strong connection with the students during the tenure he spent in the college. In the Maharaja's College Centenary Volume (1951) we find a record of Prof Yamnunacharya a student of S.Radhakrishnan saying:
"Dr S. Radhakrishnan was one of our most beloved Professors of Philosophy. We loved him and adored him. His delightful informality and bonhomie would put us instantly at ease. His lectures on Ethics and Modern Philosophy were daily feasts to us. Who could forget his gentle tilting at Kant for his 'drill-sergeant morality?' Who again could erase from memory his exposition of British Empiricism which 'lost itself in the desert sands of skepticism?' Who could not be convinced of his standpoint by his clear analysis and trenchant criticism of contemporary philosophers like Bradley and Bergson, Russell and Alexander? The intellectual stimulation that followed in the wake of his teaching left in us a perennial interest in Philosophy. This was a great teacher that left us better than he found us. With this Professor of Philosophy who wielded extraordinary influence over his students, it was a case of 'I came, I saw, I conquered"
The words reveal how perfectly he portrayed his role as a teacher. He was a highly knowledgeable teacher who knew how to transfer information to his students effectively.
Prof Yamnunacharya recalls the day of Radhakrishnan's farewell. Students pulled the chariot-like carriage he was seated into till the railway station. They were shouting 'Jai ho Radhakrishnan' full-throated. The student and their beloved teacher both were teary-eyed when the train was about to leave. Radhakrishnan bade the final goodbye to his students with folded palms and moistened eyes.
Radhakrishnan understood the gravity and philosophy of knowledge and learning. He used to say "When we think we know, we cease to learn".
His words are lighting the candles of inspiration for us. "A life of joy and happiness is possible only based on knowledge and science."